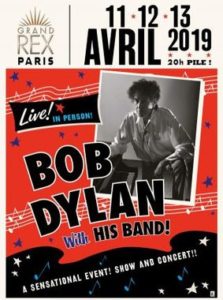 Saturday 13 April 2019, Le Grand Rex in Paris. I went to see Bob Dylan in concert. It was my brother, Franck, who surprised me and offered me the ticket. Without that, I wouldn't have gone and I probably wouldn't have even known about THE EVENT. I like listening to Dylan a lot, I have for a long time, but to go to a rock concert… I'd done it for Lou Reed, and that was that. Because Lou Reed holds a special place in the intramural mental space of my youth. And that by 2012, Lou Reed was well weakened physically – a farewell.
Bob Dylan is not the same. I like most of his songs, and the 'character' intrigues and appeals to me (I found D.A Pennebaker's documentary Don't Look Back very interesting; I was almost hilarious, many years later, to learn that he'd won the Nobel Prize for Literature – things like that. Interesting, that's the right word, nothing more, interesting to live at the same time as this American poet-singer.
Anyway. So I went to the concert at the Grand Rex with Franck, and with Lou, my seventeen-year-old niece, and Marguerite, my companion. So accompanied by the three people who mean the most to me in the world, I was happy to be where I was and to be going where I was going, and I will remain so regardless of the concert to come: Dylan this, Dylan that, Dylan and his osteoarthritis – Dylan without a guitar – Dylan not saying a word to the audience, neither hello nor goodbye. Etc… We'll see.
Le Grand Rex, Saturday 13 April
The Grand Rex is packed – no doubt the audience of this last performance of a three-day series in Paris, three sold-out concerts, has understood the instructions: it starts at 8pm. In the hall, there are not only old people. There are even a lot of young people, contrary to what I've read here and there in the press. I don't know where journalists and critics are placed at these concerts, what they can see, but I too was « there » as they say, and I assure you that there were many, many spectators under thirty. Young people, that is. And I thought it was pretty cool: no sociological study on the audience of « living rock legends ». It was just nice, strangely enough it made me happy for Bob Dylan who, I think, doesn't have to worry too much about this kind of thing.
The room was still lit up and I looked at the stage, where the instruments were set up. There were also simple but imposing spotlights on the stage, high up, and at the back there was a velvet curtain, a neutral colour. That was all. At that moment, the only décor was still that of the hall itself: on both sides, some sort of relief theatre décor (pasteboard at the Grand Rex?)
It got dark at eight o'clock or so.
You can see the band taking their places. Dylan is at the piano (he will often take the harmonica, and the sound of Bob Dylan's harmonica, increasingly rare, leads to the seventh region of the heavens. True).
So the band is in place, the spotlights come on, light, subdued, intimate. The concert starts with Things have changed. The acoustics are good and above all, above all! The voice – warm and expressive. It will remain so for the whole of the concert, which lasts two hours. Two hours that I can't see passing. Two superb and unforgettable hours. Two brilliant hours, with top musicians. As far as I know, one of the two guitarists of the band has gone somewhere: one guitar instead of two, which I suppose changes the game, as far as rock sounds are concerned – consistent with the deeply intimate atmosphere of the whole thing, and I bet a thousand to one that the pure energy was better.
As I didn't know most of the songs played that night, I'm not going to amuse myself with a description-listing-criticism of any set-list that I would be unable to fix. But this: unbelievable emotion, bringing tears of pure joy to your eyes, for Don't think twice, It's all right: Dylan alone with the double bass; Like a Rolling Stone: I understand it's Like a Rolling Stone, only by hearing the chorus « How does it feel? Great. (Speaking of revisited songs: the songs on record have been heard a million times, Dylan offers and original versions stricto sensu: more than gifts (and certainly not whims or massacres):proof that every one of Bob Dylan's creations is ALIVE FOR REAL.
There's Dylan singing Scarlet Town standing at the microphone. I look at him, and will never forget that very classy, forever iconic figure.
… And it's already over.
I say again: two hours I haven't seen it go by and I'm coming to the end already: It takes a lot to laugh it takes a train to cry, the last Dylan song with Dylan (because there is a sequel to this ending).
Bob Dylan comes and stands in front of the audience, stays there for a few seconds, then gives a thumbs up salute. And because he himself is smiling and moved, it's like being in a dream (a gesture meaning: I felt great, everything's fine, I say goodbye and see you soon).
Dylan leaves and The Band starts the instrumental of Just Like Tom Thumb's Blues, during which the musicians will also leave the stage, in turn:
Donnie Herron [fiddle, banjo, mandolin, lap steel]; Charlie Sexton [guitar]; Tony Garnier; [bass / double bass]; then George Recile [drums], who swings his sticks after an unbelievable solo: this time it's over.
Keep these images in your memory
Outside, the Grands Boulevards are swarming with people and I just want to get away from the noise. I drag Marguerite, Franck & Lou into the metro, I suppose they wonder why I'm in such a hurry to get back. And it's true that I rush. To be able to settle down better, to keep my head and feet in Dylan's work as long as possible.
A little later, on the terrace of a café in the 18th district, we discuss the concert, of course. Then I tell Lou that she has just LIVED AN HISTORICAL MOMENT. Maybe I'll give her a speech. BOB DYLAN, NOBEL PRIZE FOR LITERATURE, DYLAN, 77, ONE OF THE GREATEST ARTISTS ALIVE, ETC.
Lou is aware of all this, and simply replies: « Bob Dylan: he's so handsome!
A happy synthesis. The only one that is worthwhile.
David Laurençon
Ps: I can't resist the wink,